Dress me up Vol. 1
Posted by FATMA SHARMY MOHAMED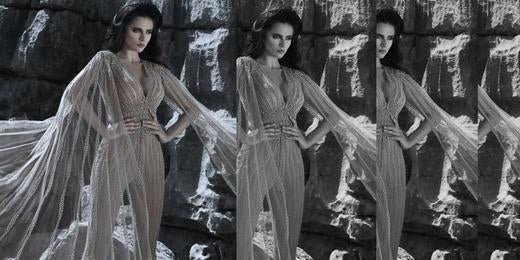 For many of us Hijabi ladies , its such a burden to think of an outfit for an upcoming event .
Right here i gathered some designs , fabrics and color palette ideas to help all of us through this tough process :)
I gathered some inspirational fabric designs and color palettes, i don't recommend wearing bright colors since it will be a whole lot of cloth so it will be too much, in my opinion a bold color needs some skin to contrast and look better. that's why i always went for a grey or w black dress back in the day but now i prefer lighter less contrasting colors such as nude or beige like the palette i am sharing with you below. if you add too much of such colors you still get elegance and uniqueness .
As for the fabric it always depends on the design of the outfit but i personally prefer soft flouncy materials that don't wrinkle , and i always prefer lighter weight fabrics as sometimes embellished materials are just torturous in weight. so you always have to consider that before buying.
1- Two piece outfit
You can wear a 2 piece outfit that you can reuse differently later on , such as a ball room maxi skirt with a cropped top (third on in the below pic) maybe in a similar strong fabric as the skirt or simply a heavy lace top that is just on the waist line.
Another idea is also a skirt but in a more flouncy material like silk or chiffon and a cape bodysuit with embellishment or lace fabric to the top part and the same flouncy material of the skirt as the back cape,But i think this design doesn't go with wide shoulder body shapes as they already widen it a bit more.
2-Simple Dresses
We all have events where we'd rather be comfortable or it's formal events that we don't have to pop up in! That's where we go to our simple dress.
I gathered 3 main design ideas for a perfect simple dress and here they are.
So the first one is all about the fabric where you just choose a 3d flowered fabric which is available at many places now and make a simple long sleeved cut with pleats under the waist and some chord to define the waist line. You can also get an all same color fabric with same color flowers even and underlay it with another shade or a darker shade of the same color to get a different look.
The second one is a simple see through soft material could be with a dot or cage detail or not, preferably in a dark shade than the underlay , just make sure the sleeve is fitting enough as such design won't be elegant looking if the sleeve is loose.
The last design is a simple fishtail design where the fabric is embellished, in order to make such fabric simple and not look too extravagant you can start from the top and just under the waist line start fading it, or with some embellished fabrics they have a sort of pattern so you can have it end with a frame detail.
3-Jumpsuit Ideas
I personally love jumpsuits for special occasions, they are both different and trendy.
The first one is a simple one, you can just replace the plunge neck with a closed one and go for an overall simple but a bit shiny fabric.
Second 2 are a bit too much but sometime needed !
So the middle one is an all over embellished pattern,i would replace the skinny leg for a wide one though , gives more flouncy and elegant feel to it , and i guess a nude shade would be much nicer too.
The last one is perfect for someone who's looking to cover their belly yet show their petite posture, i wouldn't recommend it for someone busty though. Simple pencil leg detail and a bold frill from the waist and add nicely fitted sleeves from the same fabric, also in beige an nude would be just perfect.
4- Unique Dresses
Last but not least my favorite kind of dress! ruffles , lace and details <3
They are all pretty clear from the pics but i will give you my take on each anyway :)
The first one is either an embellished or a lace top with a peplum detail from the waist line, just make sure the peplum is high low designed looks a lot more elegant and covers any details .
The second one you can replace the whole dress with a plain material and have all the detail in the overlaying cape which could be a bit longer from the front to cover the belly, or not all depending on your body shape and comfort.
The third one would be perfect for someone with a flat hour glass shaped body, and as you can see the overlaying skirt is all plain and the detail is just on the side to compliment and merge with the dress itself.
I hope this thread is helpful to everyone, i know i will definitely be looking at it for some inspiration next time i am stuck and i don't know what to wear .
I will be sharing with you some rough designs of mine in part II of this thread soon :)
And of course i would love to hear your feedback and if you have any questions feel free to contact me through the website .
Cheers,
Collection 2019
Sale 70% Off
Title for image