Compositions of my favorite Accessories & Makeup
Posted by FATMA SHARMY MOHAMED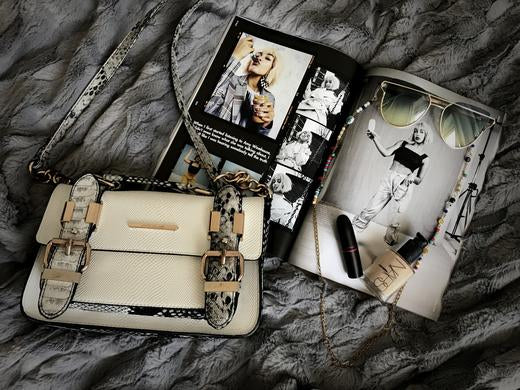 As i previously mentioned i LOVE photography, i love taking good pictures basically. so i always play around with my camera taking pictures of my stuff .
Today i decided i to share with you some of my all time favorite pieces & why .
Here i am showing one of my Ombre Sunnies which is my favorite kind of Sunglasses for the past year(am sure it shows in my pictures =D) they are everywhere and i believe they make a touch of color to any outfit
Second piece is this lovely messenger bag from River island who i love to get bags from actually , so unique and practical. The nice thing about this style of bags is that you can wear it casually or to a nice dinner for instance , just wear it with the cross handle to make it casual or hold it with the small handle to make it look more elegant.
This picture was taken in late winter where i just bought these sandals and the weather was basically so cold to wear them..but i wanted to anyway! so i paired them with dark ankle socks and the looked totally fine to wear for winter whilst keeping my feet warm.
Also this L'Oreal Oil is super nice for my skin, many days i don't feel like putting on makeup and applying this oil on my face makes it look so radiant and blushy so i don't feel like i need any makeup and it just feels great.
As i mentioned in my previous post, i have been so in love with lace scarves and here are 2 of my favorites! off white is a color is feel could make any outfit look classy and smooth whether in summer or winter , as for the navy one just wear it with any top on some dark denim jeans and they are contrasting and beautiful.
My mini studded backpack is an essential in my wardrobe its so casual yet unique and that's why i love it .
As for the slip ons , any pair of shoes that is different and colorful just attract my attention , i am a shoe fanatic basically =D
xo
Collection 2019
Sale 70% Off
Title for image